Structural transformation, employment, production and society (STEPS) Zambia 2018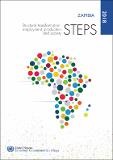 Published
2018-05
Author(s)/Corporate Author (s)
United Nations. Economic Commission for Africa;

Abstract
The development path of Zambia is guided by its "Vision 2030", launched by the government in 2006, and the sixth and seventh national development plans, which are intended to make the nation a prosperous middle-income one by 2030. The efforts to achieve structural transformation are highlighted by the focus in these framework on sustainable development, enhanced infrastructure and human development, inclusive economic growth and diversification, rural development, job creation, poverty and vulnerability reduction, reduced developmental inequalities and an enhanced governance environment. The structural transformation trajectory in Zambia since 1964 indicates that, although there have been shifts in the composition of output and labor in the economy, these shifts have not contributed to structural transformation. The economy, as with that of many other emerging countries that depend on commodities for their economic growth, has not been spared the negative impacts of declining commodity prices on the international market. The need for diversification of the economy and an export base remains a challenge. The best prospects for diversification are to be found in the agricultural sector, which is dominated by low productivity, low-skill maize cultivation for domestic consumption. Economic diversification remains key to addressing the high levels of poverty and inequality, given that sector cross sectionally generated growth could potentially contribute to distributing incomes evenly among the population.
Citation
"United Nations. Economic Commission for Africa (2018-05). Structural transformation, employment, production and society (STEPS) Zambia 2018. Addis Ababa. © UN. ECA. "
Related items
Showing items related by title, author, creator and subject.