Base erosion and profit shifting in Africa: reforms to facilitate improved taxation of multinational enterprises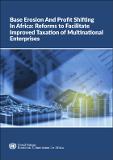 Published
2018-01
Author(s)/Corporate Author (s)
United Nations. Economic Commission for Africa;

Abstract
Increased domestic resource mobilization is central to achieving structural transformation in Africa which is in turn essential to addressing social and economic challenges on the continent, such as poverty, inequality and unemployment. Most African countries, however, face major challenges in mobilizing domestic resources for development. There are also challenges regarding underdeveloped tax laws, the low enforcement of tax laws and general administrative weakness. The 15 actions to curtail base erosion and profit shifting deal with different dimensions of the international tax planning practices of multinational enterprises. These dimensions could affect countries in different ways, depending on whether the country is predominantly capital-importing or capital-exporting. The 15 actions are divided into four major implementation categories that OECD recommends. These are minimum standards; common practices and best practices for domestic law; international standards; and analytical reports. The study examines the base erosion and profit shifting measures in each action under the relevant category, and some insight is given regarding what the response of African countries should be regarding the same. Three African country case studies are set out in the report (Cameroon, South Africa and United Republic of Tanzania) to gauge the impact of base erosion and profit shifting on their economies, the measures that they have in place to curtail base erosion and profit shifting and to what extent they have adopted any of the OECD base erosion and profit shifting measures that are of priority to them.
Citation
"United Nations. Economic Commission for Africa (2018-01). Base erosion and profit shifting in Africa: reforms to facilitate improved taxation of multinational enterprises. Addis Ababa. © UN. ECA. "
Related items
Showing items related by title, author, creator and subject.
Séminaire de Cotonou: les problèmes de stratégie de développement

Nations Unies. Commission Economique pour l'Afrique. Institut Africain de développement économique et de planification

"Amin, Samir; Nations Unies. Commission Economique pour l'Afrique. Institut Africain de développement économique et de planification (1975). Séminaire de Cotonou: les problèmes de stratégie de développement. Dakar. © NU. IDEP. "