Conference on digital trade in Africa: implications for inclusion and human rights concept note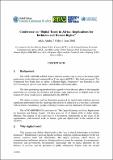 Date
2018-05
Author(s)/Corporate Author (s)
United Nations. Economic Commission for Africa. Regional Integration and Trade Division. African Trade Policy Center;

Résumé
The ATPC, OHCHR and FES Geneva initiated a partnership to analyze the human rights implications of the African Continental Free Trade Area (AfCFTA). The final joint report "The Continental Free Trade Area in Africa: A Human Rights Perspective" was launched in July 2017 focusing on specific case studies, stakeholders and human rights. The three partnering organizations have agreed to focus the next phase of the triangular partnership on assessing the inclusion and human rights implications of digital trade in the context of Africa's trade policy underpinned by the AfCFTA. The digital economy and the dynamism generated by digital trade solutions presents significant opportunities but also challenges that need to be addressed in a way that is consistent with inclusion, transparency, people-centered governance and the attainment of human rights. The purpose of the conference is to brainstorm preliminary on the scope of the organizations' joint research work on human rights and digital trade in the context of the AfCFTA.
Citation
"United Nations. Economic Commission for Africa. Regional Integration and Trade Division. African Trade Policy Center (2018-05). Conference on digital trade in Africa: implications for inclusion and human rights concept note. Addis Ababa. © UN. ECA. "
Related items
Showing items related by title, author, creator and subject.
African Continental Free Trade Area: Phase II negotiations

United Nations. Economic Commission for Africa; African Union Commission

"United Nations. Economic Commission for Africa; African Union Commission (2018). African Continental Free Trade Area: Phase II negotiations. Addis Ababa. © UN. ECA. "

Brief on e-commerce in Africa

United Nations. Economic Commission for Africa. Regional Integration and Trade Division. African Trade Policy Center

"United Nations. Economic Commission for Africa. Regional Integration and Trade Division. African Trade Policy Center (2018). Brief on e-commerce in Africa. Addis Ababa. © UN. ECA. "