Action plan for African training component: quarterly newsletter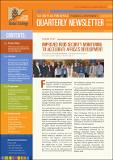 Published
2018-03
Author(s)/Corporate Author (s)
United Nations. Economic Commission for Africa;

Abstract
The Food and Agriculture Organization of the United Nations (FAO), in collaboration with the United Nations Economic Commission for Africa (UNECA), stepped up efforts to put in place reliable, timely and effective monitoring of the food insecurity situation for policy guidance in Africa. The two institutions ended a five-day training course on monitoring SDG 2 - End Hunger, achieve food security and improved nutrition and promote sustainable agriculture - in line with the framework of the strategic cooperation agreement between the ECA and FAO, in support of food security monitoring in Africa in the framework of the 2030 agenda for sustainable development. The course aimed to inform and train senior technical officers from international and regional institutions in Africa engaged in food security monitoring and/or assessment on the application of Food Insecurity Experience Scale (FIES) methodology. FIES is one of the tools employed to assess and monitor the prevalence of moderate or severe food insecurity in a given population.
Citation
"United Nations. Economic Commission for Africa (2018-03). Action plan for African training component: quarterly newsletter. Addis Ababa. © UN. ECA. "
Serial Title
Quarterly
Related items
Showing items related by title, author, creator and subject.