Regional climate centres in Africa consolidated capacity needs assessments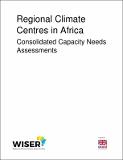 Published
2018
Author(s)/Corporate Author (s)
United Nations. Economic Commission for Africa;

Abstract
This consolidated report provides a top level summary outlining key gaps that exist at the continental level to help African regional climate centers improve the development, production, delivery and uptake of their key products and services. It also provides an overview of the climate landscape in the continent and how RCCs are fundamental components to support the achievement of several important climate initiatives designed to improve the provision and use of appropriate climate information to promote planning for sustainable development in Africa. The report below is a consolidation of recent reviews of African regional climate centers that are targeted to be designated as WMO-regional climate centers inter-alia African center for meteorological applications for development (ACMAD) ;Agriculture, Hydrology and Meteorology (AGRHYMET); Inter-governmental authority on development climate prediction and applications center (ICPAC); Climate application and prediction center for central Africa (CAPC-CA); Southern Africa development community-climate services center (SADCCSC). The analyses of the capacity needs assessment (CNA) findings have shown that there are common challenges in all the centers but also specific issues to each center. The summaries of the key gaps and proposed priority recommendations for each regional climate center are detailed below.
Citation
"United Nations. Economic Commission for Africa (2018). Regional climate centres in Africa consolidated capacity needs assessments. Addis Ababa. © UN. ECA. "
Related items
Showing items related by title, author, creator and subject.