Report capacity needs assessment of ICPAC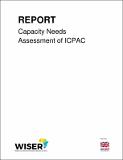 Published
2018
Author(s)/Corporate Author (s)
United Nations. Economic Commission for Africa;

Abstract
The objectives of this assessment is to review and consolidate the various assessments performed at ICPAC; identify ICPAC's key products, services and the needs of their key users; prepare, plan and undertake a complementary capacity needs assessment (CNA); analyze the findings of the capacity needs assessment and provide a report outlining key gaps that exist to help ICPAC improve its development, production, delivery and uptake of key products and services, formulate recommendations on how to adequately address the key gaps identified. The assessment has identified the following entry points for ICPAC to strengthen its capacity in meeting WMO RCC mandatory, addressing WMO highly recommended requirements, and implementation of ICPAC's 2016-2020 Strategy, build on and expand the scope of ICPAC's internal programs, and developing strong partnerships with, the university community and research organizations, the users community, the information and computer technology (ICT) community, and the funding agencies/donors agencies community.
Citation
"United Nations. Economic Commission for Africa (2018). Report capacity needs assessment of ICPAC. Addis Ababa. © UN. ECA. "
Related items
Showing items related by title, author, creator and subject.