Towards improved access to broadband internet in support of Africa's transformation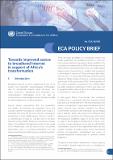 Published
2018
Author(s)/Corporate Author (s)
United Nations. Economic Commission for Africa;

Abstract
Broadband Internet has been categorized as one of the world's most important general-purpose technologies, able to dramatically impact social structures and entire economies. Broadband and information and communications technologies (ICTs) can also be mechanisms for social and digital inclusion for all, especially for disadvantaged and remote populations. The present policy brief is drawn from a recent study by ECA entitled "Towards improved access to broadband in Africa". It summarizes the evidence on broadband access in Africa and provides key policy recommendations for consideration by African policymakers and decision makers. It is hoped that it will contribute to explorations of how best to build up broadband infrastructure on the continent and thus make broadband services easily accessible and affordable to citizens and firms.
Citation
"United Nations. Economic Commission for Africa (2018). Towards improved access to broadband internet in support of Africa's transformation. ECA Policy Brief. ECA/18/003, 6 p.. Addis Ababa. © UN. ECA. https://hdl.handle.net/10855/24305"
Serial Title
ECA Policy Brief
Related items
Showing items related by title, author, creator and subject.