Expert group meeting to review the draft study on "the potential of APRM for early warning and conflict prevention in Africa": aide-memoire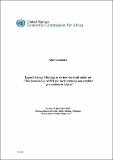 Published
2017
Author(s)/Corporate Author (s)
United Nations. Economic Commission for Africa;

Abstract
The African Peer Review Mechanism (APRM) is an African-owned transformative governance instrument established to subject its member states to extensive, inclusive and technically competent self-assessments and external peer reviews at the highest level. The process is guided by the principles of transparency, participation, accountability, credibility and freedom from political manipulation. The study aimed to interrogate APRM's contribution to existing early warning and conflict prevention frameworks in Africa. It provided data and analyses on how APRM can achieve synergies with current continental and sub regional systems and tools. To do so, the authors undertook a comprehensive and rigorous review of the potential effect and contributions of APRM on conflict prevention and early warning systems in 20 APRM peer review countries, which they extended to the rest of the continent. This involved analysis of APRM process and templates, including APRM questionnaire and statutes, 20 APRM country review reports and national plans of action, as well as previous ECA research on APRM crosscutting issues, etc. The report also analyzed existing conflict prevention frameworks and templates at the continental and sub regional levels, with emphasis on the variables and indicators used.
Citation
"United Nations. Economic Commission for Africa (2017). Expert group meeting to review the draft study on "the potential of APRM for early warning and conflict prevention in Africa": aide-memoire. Addis Ababa. © UN. ECA. "
Related items
Showing items related by title, author, creator and subject.
Administration for development

United Nations. Economic Commission for Africa. Public Administration Section; United Nations. Economic Commission for Africa; United Nations

"United Nations. Economic Commission for Africa. Public Administration Section; United Nations. Economic Commission for Africa; United Nations (1971). Administration for development. [Addis Ababa] :. © UN. ECA,. http://hdl.handle.net/10855/14951"

La privatisation des entreprises publiques: les leçons des expériences africaines

Nations Unies. Commission Economique pour l'Afrique. Division de l'administration publique, des resources humaines et du développement social

"Mostafa, Rhomari; Nations Unies. Commission Economique pour l'Afrique. Division de l'administration publique, des resources humaines et du développement social (1993). La privatisation des entreprises publiques: les leçons des expériences africaines. NU. CEA Conférence Régionale sur la Gestion du Développement en Afrique: Trente années d'expérience, les nouveaux défis et les priorités futures (1993, mars 8 - 12 : Addis Abeba, Ethiopie).. Addis Abeba :. © NU. CEA,. http://hdl.handle.net/10855/3859"