Winning the fight against corruption: a sustainable path to Africa's transformation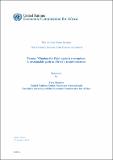 Published
2018-01
Author(s)/Corporate Author (s)
Songwe, Vera;
United Nations. Economic Commission for Africa;

Abstract
Africa has recently embraced two very important transformational agendas the 2030 Agenda, which aims to leave no one behind, and Agenda 2063, at the global and regional levels, respectively. Successful implementation of these agendas requires substantial financial resources, most of which must necessarily be mobilized from within the continent. The continent cannot afford to continue to suffer from the kinds of financial leakages it has had to contend with over the past several years through various forms of corrupt acts and practices. Placing the fight against corruption at the top of the agenda of our continental organization is a step in the right direction, considering that nearly half of the population on the continent believes that our Governments have either failed or been unable to properly address the complex and wide ranging impacts of corruption on resource mobilization, resource allocation and development outcomes on the continent.
Citation
"Songwe, Vera; United Nations. Economic Commission for Africa (2018-01). Winning the fight against corruption: a sustainable path to Africa's transformation. Addis Ababa. © UN. ECA. "
Related items
Showing items related by title, author, creator and subject.
Administration for development

United Nations. Economic Commission for Africa. Public Administration Section; United Nations. Economic Commission for Africa; United Nations

"United Nations. Economic Commission for Africa. Public Administration Section; United Nations. Economic Commission for Africa; United Nations (1971). Administration for development. [Addis Ababa] :. © UN. ECA,. http://hdl.handle.net/10855/14951"

La privatisation des entreprises publiques: les leçons des expériences africaines

Nations Unies. Commission Economique pour l'Afrique. Division de l'administration publique, des resources humaines et du développement social

"Mostafa, Rhomari; Nations Unies. Commission Economique pour l'Afrique. Division de l'administration publique, des resources humaines et du développement social (1993). La privatisation des entreprises publiques: les leçons des expériences africaines. NU. CEA Conférence Régionale sur la Gestion du Développement en Afrique: Trente années d'expérience, les nouveaux défis et les priorités futures (1993, mars 8 - 12 : Addis Abeba, Ethiopie).. Addis Abeba :. © NU. CEA,. http://hdl.handle.net/10855/3859"