Rethinking the agricultural and rural transformation of African in the new global context: challenges opportunities and strategic options: overview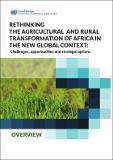 Published
2016
Author(s)/Corporate Author (s)
United Nations. Economic Commission for Africa;

Abstract
Africa has great wealth natural and human but such wealth coexists with extensive and chronic poverty. Africa is still to achieve a successful transformation in terms of low to high agricultural productivity, which is an essential component of high income and industrialized economies. The main message of ECA's report on agricultural and rural transformation is that Africa must succeed in agricultural and rural transformation. success must be at the center of the agenda, if Africa is to realize its significant potential, which is to become food secure and industrialized. The report referred to above shows how the necessary success can be achieved. The focus of the report is on how to ensure success in the agricultural and rural sector. The report targets policymakers, policy analysts and major stakeholders in Africa, and maintains that it is essential to help achieve basic livelihood goals, which include food security for all; Employment creating non-farm rural and non-agricultural sectors, especially to reduce high youth unemployment and underemployment; Greater resilience to shocks both natural and man-made, such as droughts, floods, armed conflict, and food price hikes.
Citation
"United Nations. Economic Commission for Africa (2016). Rethinking the agricultural and rural transformation of African in the new global context: challenges opportunities and strategic options: overview. Addis Ababa. © UN. ECA. "
Related items
Showing items related by title, author, creator and subject.