Continental Free Trade Area: questions and answers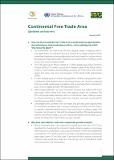 Published
2018-01
Author(s)/Corporate Author (s)
United Nations. Economic Commission for Africa. Regional Integration and Trade Division. African Trade Policy Center;

Abstract
The Continental Free Trade Area (CFTA) is a flagship project of Agenda 2063. It was approved by the African Union (AU) Summit as an urgent initiative whose immediate implementation would provide quick wins, impact on socioeconomic development and enhance the confidence and commitment of Africans as the owners and drivers of Agenda 2063. The CFTA is a tool for development in Africa, but it must be utilized by private enterprises. By doing so, businesses can benefit from the great opportunities that the continent has to offer, and contribute to its sustainable growth and development.
Citation
"United Nations. Economic Commission for Africa. Regional Integration and Trade Division. African Trade Policy Center (2018-01). Continental Free Trade Area: questions and answers. Addis Ababa. © UN. ECA. "
Serial Title
African Trade Policy Centre(ATPC)
Related items
Showing items related by title, author, creator and subject.