Giant trade agreement for development in Africa : the continental free trade area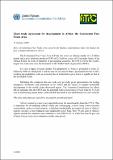 Date
2018-01
Author(s)/Corporate Author (s)
United Nations. Economic Commission for Africa. Regional Integration and Trade Division. African Trade Policy Center;

Résumé
The Continental Free Trade Area (CFTA) will cover an African market of 1.2 billion people and a gross domestic product (GDP) of $2.2 trillion, across all 55 member states of the African Union. In terms of numbers of participating countries, the CFTA will be the world's largest free trade area since the formation of the World Trade Organization (WTO). The CFTA is a tool for development in Africa but it must be wielded by private enterprise. Through doing so, businesses can benefit from the great opportunities that the continent has to offer, and contribute to its sustainable growth and development. The CFTA will progressively eliminate tariffs on intra-African trade, making it easier for African businesses to trade within the continent and cater to and benefit from the growing African market. The CFTA, however, goes beyond traditional trade agreements that merely reduce tariffs. It also liberalizes services trade. This is crucial services constitute roughly 70 per cent of global GDP and 60 per cent of employment. Negotiations were launched by the African Union Heads of State and Government in June 2015. By early 2017, negotiations were humming along at a good speed. An African Union Heads of State and Government Summit now stands ready to adopt the CFTA Agreement at an extraordinary meeting scheduled to take place in March 2018.
Citation
"United Nations. Economic Commission for Africa. Regional Integration and Trade Division. African Trade Policy Center (2018-01). Giant trade agreement for development in Africa : the continental free trade area. Addis Ababa. © UN. ECA. "
Related items
Showing items related by title, author, creator and subject.