Africa statistics flash-October 2017: selected socio-economic indicators on Africa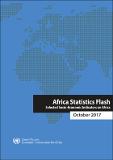 Published
2017-10
Author(s)/Corporate Author (s)
United Nations. Economic Commission for Africa;

Abstract
The Africa Statistics Flash captures macro-economic and socio-demographic indicators on the continent, giving member states and stakeholders an indication of where things stand in Africa on a monthly basis. The Flash is a one-stop shop document which provides an understanding of what is going on in Africa at a glimpse, in terms of performance its economy, trade, external debt, investment, price levels, inflation, population, school enrollment and related issues. The present report focus on Tunisia key macroeconomic indicators, contribution to GDP by selected sectors, Export/Import and GDP growth rate, sectoral contribution to gross value added, GDP growth rate, FDI inward flow and import /export products. In addition, the Africa Statistics Flash will also provide information on trade among Africa's regional economic communities.
Citation
"United Nations. Economic Commission for Africa (2017-10). Africa statistics flash-October 2017: selected socio-economic indicators on Africa. Addis Ababa. © UN. ECA. "
Related items
Showing items related by title, author, creator and subject.