Impact of climate change and agricultural policy on household welfare and trade in East Africa Community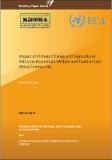 Published
2017
Author(s)/Corporate Author (s)
Mulwa, Richard;
United Nations. Economic Commission for Africa;

Abstract
The East Africa Community (EAC) was established to widen and deepen cooperation among the EAC partner states in, among others, political, economic and social fields for their mutual benefit. One of the ways of reaping the economic and social benefits is intra-regional trade between partner states which is expected to yield economic benefits by availing commodities at reduced prices and boost social welfare by reducing poverty through increased incomes. Using a spatial equilibrium multi-market model, we modelled the impact of agricultural policy, trade policy, and climate change on the welfare of people in individual EAC partner states and the region as a whole. The main aim of the policy is to address the adverse impacts of climate change in the region in response to the growing concern about the increasing threats of the negative impacts of climate change to national and regional development targets and goals. In addition, it was developed in fulfillment of the objectives of the EAC of developing policies and programs aimed at widening and deepening cooperation among Partner States. The overall objective of the EAC Climate Change Policy is to guide Partner States and other stakeholders on the preparation and implementation of collective measures to address climate change in the region while ensuring sustainable social and economic development.
Citation
"Mulwa, Richard; United Nations. Economic Commission for Africa (2017). Impact of climate change and agricultural policy on household welfare and trade in East Africa Community. KIPPRA Working Paper. No. 27, xi, 81 p.. Addis Ababa. © UN. ECA. https://hdl.handle.net/10855/24213"
Serial Title
KIPPRA Working Paper
Related items
Showing items related by title, author, creator and subject.