A scoping study on Burundi's agricultural production in a changing climate and the supporting policies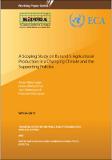 Published
2017
Author(s)/Corporate Author (s)
Ndayiragije, Alexis;
Mkezabahizi, Desire;
Ndimubandi, Jean;
Kabogoye, Francoise;
United Nations. Economic Commission for Africa;

Abstract
Climate change will impact on agricultural production and productivity around the world and the agricultural sector will have to adapt to climate change in order to achieve global food security. The general consensus among experts is that agriculture is highly vulnerable to the increased frequency of severity and unpredictability of extreme weather-related events caused by climate change, which is manifested in hurricanes, droughts, foods, rising sea levels, among others. Burundi agricultural sector is the main contributor to food security and contributes approximately 46% of GDP. Despite its importance, the sector is characterized by high production risks due to its over-dependence on rain-fed agricultural system. This makes climate change a threat to Burundi's food security. The objectives of this study is to assess national agricultural production patterns and trends with a focus on priority commodities to be assessed at regional level and to assess the national trade patterns and trends in agricultural commodities and generate data and information to inform the regional analysis and modeling.
Citation
"Ndayiragije, Alexis; Mkezabahizi, Desire; Ndimubandi, Jean; Kabogoye, Francoise; United Nations. Economic Commission for Africa (2017). A scoping study on Burundi's agricultural production in a changing climate and the supporting policies. KIPPRA Working Paper. No. 24, xiv, 66 p.. Addis Ababa. © UN. ECA. https://hdl.handle.net/10855/24211"
Serial Title
KIPPRA Working Paper
Related items
Showing items related by title, author, creator and subject.