An assessment of Tanzania's agricultural production, climate change, agricultural trade and food security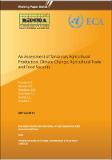 Published
2017
Author(s)/Corporate Author (s)
S.D., Tumbo;
Mahoo, H.F;
Mutabazi, K.D;
Kahimba, F.C.;
Kadigi, I.L;
T., Mnimbo;
United Nations. Economic Commission for Africa;

Abstract
Agriculture is the mainstay of Tanzania's economy. The sector contributes significantly to national GDP and export earnings, supplies raw materials for agro industries, supports rural livelihoods and feeds the urban population. However, the sector is dominated by smallholder farmers characterized by small family farms of around one hectare with limited industrial inputs and access to modern farm technologies. The agriculture sector is accorded the highest priority in the national development policies as an engine of growth and poverty reduction. The main policy goal is to achieve food security and eradicate poverty and hunger through agriculture development and transformation. However, the impact of climate change on the performance of the agriculture sector is real. Projections indicate that different agro-ecological zones will be warmer with a temperature rise of 0.5 -2 C across the country. The main objective of this study is to undertake a desk review of agricultural production, climate change, agricultural trade and food security in Tanzania, with the aim of understanding the interactions between climate change and agricultural production. The specific objectives are to appraise agricultural production and food security in the country, and trade on food and livestock products in the face of a changing climate; Examine country policies related to agricultural production, food security and trade; Evaluate the impact of climate change on food production and agricultural trade.
Citation
"S.D., Tumbo; Mahoo, H.F; Mutabazi, K.D; Kahimba, F.C.; Kadigi, I.L; T., Mnimbo; United Nations. Economic Commission for Africa (2017). An assessment of Tanzania's agricultural production, climate change, agricultural trade and food security. KIPPRA Working Paper. No. 22, xi, 54 p.. Addis Ababa. © UN. ECA. https://hdl.handle.net/10855/24210"
Serial Title
KIPPRA Working Paper
Related items
Showing items related by title, author, creator and subject.