Economic growth, development and climate change: summary for policy makers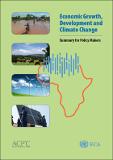 Published
2017
Author(s)/Corporate Author (s)
United Nations. Economic Commission for Africa. Special Initiatives Division. African Climate Policy Center;
United Nations Environment Programme;
African Development Bank;

Abstract
The present report focuses on two scenarios of future climate change: a low-warming scenario, that is, with reference to the Paris agreement and a high-warming scenario. The report highlights the risks to which African countries are exposed, the benefits of mitigation on economic growth and development, and it assesses the economic growth, and the development risks and opportunities for African countries. The report is aimed at providing African decision-makers with more accurate macroeconomic indicators and future economic growth trends that take into consideration climate change in adjusting short-term forecasts and long-term projections relating to gross domestic product (GDP).
Citation
"United Nations. Economic Commission for Africa. Special Initiatives Division. African Climate Policy Center; United Nations Environment Programme; African Development Bank (2017). Economic growth, development and climate change: summary for policy makers. Addis Ababa. © UN. ECA. "
Related items
Showing items related by title, author, creator and subject.