A synthesis of the impact of climate change on agricultural production systems in the East African Community Region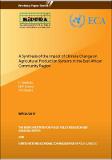 Published
2017
Author(s)/Corporate Author (s)
Mukhala, E.;
Maingi, N.W.;
Ngaina, J.N.;
United Nations. Economic Commission for Africa;

Abstract
Climate change has large influences on agriculture and thus food security, which remains heavily dependent on rainfall over Eastern Africa Community (EAC). This study sought to explore the spatial effects of climate change on agricultural production in five countries in EAC, namely Kenya, Tanzania, Uganda, Burundi and Rwanda. The climate change and crop modelling data used included observed climate, climate model output, soil profile, key informant database and maize cultivar specific parameters. The study notes that adaptation to climate change will be required in the future. Among other alternatives, adaptation to current climate variability will form the basis for longer-term adaptations. Assessing the impacts of climate change on complex systems such as agriculture requires a trans-disciplinary effort that links state of the art climate scenarios to process based crop models with results aggregated as inputs to regional and global economic models to determine regional vulnerabilities and potential adaptation strategies to climate change in the agricultural sector.
Citation
"Mukhala, E.; Maingi, N.W.; Ngaina, J.N.; United Nations. Economic Commission for Africa (2017). A synthesis of the impact of climate change on agricultural production systems in the East African Community Region. KIPPRA Working Paper. No.26, x, 38 p.. Addis Ababa. © UN. ECA. https://hdl.handle.net/10855/24200"
Serial Title
KIPPRA Working Paper
Related items
Showing items related by title, author, creator and subject.