An assessment of Rwanda's agricultural production, climate change, agricultural trade and food security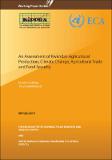 Published
2017
Author(s)/Corporate Author (s)
Gasheja, Faustin;
Gatemberezi, Paul;
United Nations. Economic Commission for Africa;

Abstract
Rwanda is a small, hilly, landlocked country located in Eastern and Central Africa region between Burundi, Uganda, Tanzania and the Democratic Republic of Congo (DRC). It is located 2° south of the Equator in Central Africa and covers a surface area of 26,338 square km. Due to high altitude, the country experiences average annual temperatures ranging from 16° to 20°C. The climate is moderate and characterized by temperate conditions, especially in higher altitudes in the Northwest of the country. The topography is hilly to mountainous with altitude ranging from 950 to 2,500 meters above sea level. Rwanda has the highest population density in Africa. Moreover, the country is characterized by agro-ecological diversity, with 12 agro-ecological zones. The objective of this study is to assess the spatial effects of climate change on agricultural production, and food security in the East African Community region, especially in Rwanda. The overall objective of the project was to assess whether or not agricultural production systems and trade policies in EAC can be adjusted to alleviate the impact of climate change on food security, and promote sustainable development. The project outputs include pre-project report, country scoping studies, in-depth EAC studies on climate change, crop production model, economic policy and trade and finally a comprehensive regional report.
Citation
"Gasheja, Faustin; Gatemberezi, Paul; United Nations. Economic Commission for Africa (2017). An assessment of Rwanda's agricultural production, climate change, agricultural trade and food security. KIPPRA Working Paper. No. 23, xii, 53 p.. Addis Ababa. © UN. ECA. https://hdl.handle.net/10855/24199"
Serial Title
KIPPRA Working Paper
Related items
Showing items related by title, author, creator and subject.