African statistics flash June 2016: selection socio-economic indicator on Africa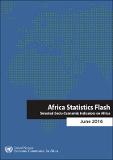 Published
2016-06
Author(s)/Corporate Author (s)
United Nations. Economic Commission for Africa;

Abstract
This report is prepared by the African Center for Statistics of the Economic Commission for Africa for the year 2016. The report focuses on Africa key macroeconomic indicators, Export/Import and GDP growth rate, sectoral contribution to gross value added, GDP growth rate, FDI inward flow and import /export products. It also focuses on countries key macroeconomic indicators, socio-demographic indicators, intra-African export and Foreign Direct Investment & Official Development Assistant.
Citation
"United Nations. Economic Commission for Africa (2016-06). African statistics flash June 2016: selection socio-economic indicator on Africa. Addis Ababa. © UN. ECA. "
Related items
Showing items related by title, author, creator and subject.
Informality and inequality in Africa: exploring the linkages

United Nations. Economic and Social Council; United Nations. Economic Commission for Africa

"United Nations. Economic and Social Council; United Nations. Economic Commission for Africa (2017-09). Informality and inequality in Africa: exploring the linkages. UN. ECA Committee on Gender and Social Development(2nd session:2017, Oct. 11 - 12: Addis Ababa, Ethiopia). Addis Ababa. © UN. ECA. "

Country profile Rwanda 2015

United Nations.Economic Commission for Africa.Eastern Africa Subregional Development Centre(SRDC-EA)

"Mold, Andrew; United Nations.Economic Commission for Africa.Eastern Africa Subregional Development Centre(SRDC-EA) (2016-03). Country profile Rwanda 2015. Addis Ababa:. © UN. ECA,. "