Maputo protocol commitment and improvements in the rural sector: meeting the Maputo protocol target for agricultural expenditure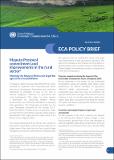 Published
2017-11
Author(s)/Corporate Author (s)
United Nations. Economic Commission for Africa. Macroeconomic Policy Division;

Abstract
In Maputo in 2003, the assembly of the African Union resolved to implement the comprehensive Africa agriculture development program and committed themselves to allocating at least 10 per cent of national budgetary resources to agricultural and rural development. This target has since become a benchmark for measuring whether African governments are sufficiently dedicated to improving their agriculture. The program of action for the least developed countries for the decade 2011–2020 also included the target as important for national food security and agricultural development. The target was also made a part of the African Union's agenda 2063. This policy brief contains a brief analysis of the progress in agriculture that more consistent achievers of the Maputo Protocol target have made and provides a comparison of it with their African peers.
Citation
"United Nations. Economic Commission for Africa. Macroeconomic Policy Division (2017-11). Maputo protocol commitment and improvements in the rural sector: meeting the Maputo protocol target for agricultural expenditure. ECA Policy Brief. ECA/18/004, 4 p.. Addis Ababa. © UN. ECA. https://hdl.handle.net/10855/24179"
Serial Title
ECA Policy Brief
Collections
Related items
Showing items related by title, author, creator and subject.