Publications and documentation guidelines at ECA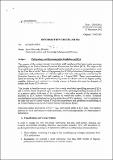 Published
2013-12
Author(s)/Corporate Author (s)
United Nations. Economic Commission for Africa;

Abstract
The purpose of the present circular is to inform staff members of the basic tenets governing publishing at the United Nations Economic Commission for Africa (ECA). The impetus for these publication guidelines are underpinned by the work of and core recommendations made by the task force on the rules of engagement for ECA key initiatives (Delivering on major conferences and publications: a collective effort) that were subsequently endorsed by the Executive Secretary at a town hall meeting on 5 August 2013. These recommendations aimed at ensuring that ECA's publications program is cohesive and of the highest quality possible, delivered and marketed in a timely manner in formats that meet the demands of today's and future ECA audience. This circular is therefore meant to ground the recently concluded reprofiling process of ECA and it will be further sharpened upon completion of the upcoming branding exercise of ECA as a premier policy think-tank of the continent. It also takes account of the intention to establish an ECA internal publishing house of world class caliber, to reflect increased standardization and professionalism in the production of ECA products. And it conforms to the rules laid out in United Nations ST/AIs and amendments and guidelines on publishing in the United Nations as set by the United Nations Publications Board.
Citation
"United Nations. Economic Commission for Africa (2013-12). Publications and documentation guidelines at ECA. Information Circular. No. 043, 10 p.. Addis Ababa. © UN. ECA. "
Serial Title
Information Circular
Collections
Related items
Showing items related by title, author, creator and subject.