Promoting connectivity in Africa:the role of aid for trade in boosting intra-African trade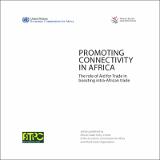 Published
2017-10
Author(s)/Corporate Author (s)
United Nations. Economic Commission for Africa. Regional Integration and Trade Division. Investment Policy Section;

Abstract
African countries, intraregional trade can act as a key channel for enhancing the transformative power of trade. While the share of intra-African trade to the total trade of African countries is currently low relative to other regions, the composition of that trade is more diversified than Africa's trade with the rest of the world. Around two-thirds of intra-African trade is in manufactured goods. Intra-African trade, in some regions, is already growing fast. In other regions, the potential of intra-African trade remains unlocked. More and better "Aid for Trade" is needed to support the continent's own trade agenda. The Global Reviews of Aid for Trade point to a shared understanding between Africa and its partners on the priority areas of concern for the framework known as Aid for Trade. Yet Aid for Trade could be more effectively directed towards supporting intra-African trade and the continent's integration agenda. The present report is structured as follows: section 1 presents recent trends in Aid for Trade flows to African countries and the region; section 2 outlines the findings from the Aid for Trade monitoring and evaluation exercise in Africa conducted jointly by OECD and WTO, which was carried out as a part of the Global Review of Aid for Trade 2017; section 3 suggests ways in which the current support for Aid for Trade can be better aligned towards boosting intra-African trade; and section 4 presents the conclusion.
Citation
"United Nations. Economic Commission for Africa. Regional Integration and Trade Division. Investment Policy Section (2017-10). Promoting connectivity in Africa:the role of aid for trade in boosting intra-African trade. Addis Ababa. © UN.ECA. "
Collections
Related items
Showing items related by title, author, creator and subject.