Africa–European union going forward strategy: note for the European union–African union summit African trade policy center November 2017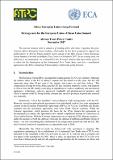 Published
2017-11
Author(s)/Corporate Author (s)
United Nations. Economic Commission for Africa. Regional Integration and Trade Division. African Trade Policy Center;

Abstract
The present strategy note is aimed at providing policy directions regarding the postCotonou Africa–European Union trading relationship. It has been prepared to support the deliberations of African Union member States ahead of the fifth African Union–European Union Summit, to be held in Abidjan, Côte d'Ivoire in November 2017. In the strategy note, the following is recommended: a standstill in the Economic Partnership Agreements process to allow for the finalization of the Continental Free Trade Area and a consolidated approach to the Africa–European Union trading relationship going forward. This strategy note is comprised of five sections, including the introduction. In section 2, the current arrangements for Africa in accessing the EU markets and the status of the EPA negotiations are discussed. In section 3, the implications of key EPA provisions, in particular, the rules of origin provisions for the regional integration of Africa and the industrial development agenda are examined. In section 4, key strategic considerations are put forward. Section 5 concludes with some recommendations.
Citation
"United Nations. Economic Commission for Africa. Regional Integration and Trade Division. African Trade Policy Center (2017-11). Africa–European union going forward strategy: note for the European union–African union summit African trade policy center November 2017. Addis Ababa. © UN.ECA. "
Related items
Showing items related by title, author, creator and subject.