Guidelines and template for developing a vital statistics report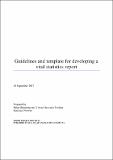 Published
2017-09
Author(s)/Corporate Author (s)
Brunborg, Helge;
Nielsen, Vibeke Oestreich;
United Nations. Economic Commission for Africa;

Abstract
The Africa program on accelerated improvement of civil registration and vital statistics (APAI-CRVS) was launched in 2012. In the Yamoussoukro Declaration, African ministers responsible for civil registration during their third conference, held in February 2015, declared that we commit to analyze and disseminate statistics from civil registration regardless of the level of completeness as a means to establish the state of the system and its development. This template has been prepared to support countries in the realization of this goal. The purpose of this document is to serve as a guidance tool for producing vital statistics reports from civil registration systems. It is intended especially for countries that have little or no prior experience with preparing such reports. The tool may also serve as a standardized approach for continental and international reporting. The tool has two parts: Part one: guidelines that explain how the template may be used and that provide support when writing a vital statistics report Part two: a template outline for a vital statistics report with specifications on what should be included.
Citation
"Brunborg, Helge; Nielsen, Vibeke Oestreich; United Nations. Economic Commission for Africa (2017-09). Guidelines and template for developing a vital statistics report. Addis Ababa. © UN. ECA, ESCAP and Statistics Norway. "
Related items
Showing items related by title, author, creator and subject.