UK-Africa trade Post-Brexit: lessons from the economic partnership agreements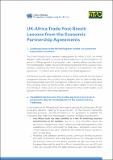 Date
2017
Author(s)/Corporate Author (s)
United Nations. Economic Commission for Africa. Regional Integration and Trade Division. African Trade Policy Center;

Résumé
The United Kingdom is an important trading partner for Africa. In 2015, the United Kingdom market absorbed 4.3 percent of Africa's total exports, and accounted for 12.4 percent of African exports to the European Union. Currently African countries access the United Kingdom market through preferential arrangements of the European Union, including Everything but Arms and asymmetric free trade agreements such as the economic partnership agreements. The Brexit process has raised legitimate concerns in African countries over the trading arrangement between Africa and the United Kingdom after the latter formally leaves the European Union. A possible interruption in market access is a threat in particular to those countries, which rely heavily on the United Kingdom market. To solve the issue of continuity in market access, it has been proposed that the United Kingdom could replicate the economic partnership agreements.
Citation
"United Nations. Economic Commission for Africa. Regional Integration and Trade Division. African Trade Policy Center (2017). UK-Africa trade Post-Brexit: lessons from the economic partnership agreements. Addis Ababa. © UN. ECA. "
Related items
Showing items related by title, author, creator and subject.