Political power: women's Agency in Africa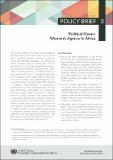 Published
2017-10
Author(s)/Corporate Author (s)
United Nations. Economic Commission for Africa;

Abstract
The African Center for Gender (ACG) introduces the AGDI Policy Brief Series with an aim to take stock of gender equality in women's agency in Africa and highlight challenges lying ahead and where available offer prioritized policy recommendations to accelerate progress toward gender equality and women's empowerment, particularly in political sphere. The AGDI is based on two components. First, a quantitative snapshot of 44 indicators that capture gender disparities in social, economic and political arenas is captured by the Gender Status Index (GSI). Second, a qualitative self-evaluation of governments' performance in their implementation of more than 30 treaties, declarations, and resolutions affecting women's rights and women's empowerment in social, economic and political arenas is represented by the African Women's Progress Scoreboard (AWPS). This Policy Brief focuses on Political Power which spans over 30 per cent of the indicators in GSI and 4 out of 32 indicators in AWPS. This Brief draws on the results from the AGDI Country Reports for the Phase 2 of the AGDI.
Citation
"United Nations. Economic Commission for Africa (2017-10). Political power: women's Agency in Africa. Policy Brief. no.3, 1 v. (various paging).. Addis Ababa. © UN. ECA. https://hdl.handle.net/10855/24148"
Serial Title
Policy Brief
Related items
Showing items related by title, author, creator and subject.
African Universities, the Private Sector, and Civil Society: Keynote address by Dr. K. Y. Amoako, UN under-secretary-general and executive secretary of ECA

United Nations. Economic Commission for Africa.

"Amoako, K.Y.; United Nations. Economic Commission for Africa. (1999-06). African Universities, the Private Sector, and Civil Society: Keynote address by Dr. K. Y. Amoako, UN under-secretary-general and executive secretary of ECA. UN. ECA International Association of University Presidents Africa Regional Council Conference (1999, Jun. 6: Accra, Ghana). Addis Ababa:. © UN. ECA,. https://hdl.handle.net/10855/31450"

Pouvoir social: capacités des femmes en Afrique

Nations Unies. Commission Economique pour l'Afrique. Centre africain pour le genre et le développement; Nations Unies. Commission Economique pour l'Afrique. Centre africain pour le genre et le développement

"Nations Unies. Commission Economique pour l'Afrique. Centre africain pour le genre et le développement; Nations Unies. Commission Economique pour l'Afrique. Centre africain pour le genre et le développement (2017). Pouvoir social: capacités des femmes en Afrique. Centre africain pour le genre IDISA(Note d'orientation). No. 1, 7 p.. Addis Abeba. © NU.CEA. https://hdl.handle.net/10855/23864"