Fourteenth quarterly briefing meeting with African ambassadors: briefing note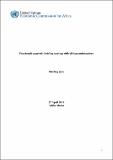 Published
2017-04
Author(s)/Corporate Author (s)
United Nations. Economic Commission for Africa;

Abstract
The Executive Secretary of the Economic Commission for Africa (ECA) is convening the fourteenth quarterly briefing with African ambassadors accredited to Ethiopia to exchange views on the work of the Commission. This note provides an overview of the substantive work carried out by the Commission over the past three months, highlights the key events that will be taking place over the next three months, and discusses some of the Commission's new partnerships. The present note focuses on substantive areas of work, grouped under topics relating to the Commission's program of work: key events, knowledge generation and capacity development, which includes providing technical support to member States and consensus-building.
Citation
"United Nations. Economic Commission for Africa (2017-04). Fourteenth quarterly briefing meeting with African ambassadors: briefing note. Addis Ababa. © UN. ECA. "
Related items
Showing items related by title, author, creator and subject.
2020 programme plan and budget:Note by the secretariat

United Nations. Economic Commission for Africa

"United Nations. Economic Commission for Africa (2019-03). 2020 programme plan and budget:Note by the secretariat. UN. ECA Committee of Experts of the Conference of African Ministers of Finance, Planning and Economic Development Meeting(38th :2019, Mar. 20 - 22 :Marrakech, Morocco). Addis Ababa. © UN.ECA. "

Draft aide memoire: RCM Africa Retreat on Joint Programming

United Nations. Economic Commission for Africa; African Union Commission

"United Nations. Economic Commission for Africa; African Union Commission (2018). Draft aide memoire: RCM Africa Retreat on Joint Programming. UN. ECA RCM Africa Retreat on Joint Programming (2018, Apr. 24-27: Nairobi, Kenya). Addis Ababa. © UN. ECA. "