Workshop on harmonization, adaptation, implementation and development of the United Nations frameworks classification for fossil energy and mineral reserves and resources (UNFC-2009) in line with the African Mining Vision (AMV): as a tool for improving governance and transparency in the Mineral Sector in Africa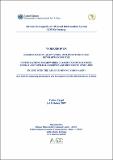 Published
2017-10
Author(s)/Corporate Author (s)
United Nations. Economic Commission for Africa. Special Initiatives Division. African Minerals Development Center;

Abstract
The African Heads of State and Government adopted the Africa Mining Vision (AMV) in 2009 with a long-term goal of "transparent, equitable and optimal exploitation of [Africa's] mineral resources to underpin broad-based sustainable growth and socio-economic development". More specific, among its goals, the AMV Action Plan aims to improved geological and mineral information systems to underpin investment in exploration and mine development. The purpose of the workshops is to harmonize, adapt and develop the UNFC in a way that it can be used as the continental system or African Mineral Resource Classification(AMREC), according to the Africa Mining Vision principles. The objectives of the workshop are discuss and propose the harmonization, adaptation, implementation and development of an UNFC as a unifying system for the classification and reporting of fossil energy and mineral reserves and resources in Africa; frame the requirements of developing detailed guidance for application of UNFC in Africa in line with the requirements of AMV; Set up modalities for the setting up of Pan African Competent Person system, including the elaboration of a training program; Reach out to functional professional bodies in mineral, petroleum and renewable industries in Africa for collaborations on the above proposed activities.
Citation
"United Nations. Economic Commission for Africa. Special Initiatives Division. African Minerals Development Center (2017-10). Workshop on harmonization, adaptation, implementation and development of the United Nations frameworks classification for fossil energy and mineral reserves and resources (UNFC-2009) in line with the African Mining Vision (AMV): as a tool for improving governance and transparency in the Mineral Sector in Africa. Addis Ababa. © UN. ECA. "
Collections
Related items
Showing items related by title, author, creator and subject.