Assessing Regional Integration in Africa VIII: Bringing the Continental Free Trade Area About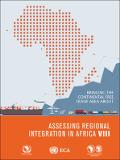 Published
2017-10
Author(s)/Corporate Author (s)
United Nations. Economic Commission for Africa;
African Union Commission;
African Development Bank;

Abstract
The establishment of the Continental Free Trade Area (CFTA) is a major milestone in the long march of African integration. As foreseen in the Treaty Establishing the African Economic Community, which entered into force in 1994, the integration process is to culminate in the African Economic Community. The CFTA aspires to liberalize trade between African countries across the continent and to build on the considerable successes already achieved within Africa's regional economic communities (RECs). By doing so, the CFTA is set to facilitate intra-African trade; foster regional value chains that can facilitate integration into the global economy; and energize industrialization, competitiveness and innovation and thereby contribute to African economic and social progress and development. The report considers methods of financing for bringing the CFTA about, including the role of domestic resource mobilization, non-traditional financial vehicles and regional Aid-for-Trade. Financing must, however, be buttressed with effective implementing institutions and an appropriate CFTA governance structure. The report emphasizes the need to ensure that CFTA institutional structures are based on practical approaches that work in Africa. These issues have been the focus of several earlier editions of the Assessing Regional Integration in Africa (ARIA) series, notably ARIA V, which made the case for a CFTA.
Citation
"United Nations. Economic Commission for Africa; African Union Commission; African Development Bank (2017-10). Assessing Regional Integration in Africa VIII: Bringing the Continental Free Trade Area About. Addis Ababa. © UN. ECA. "
Related items
Showing items related by title, author, creator and subject.
Draft report of the tenth session

United Nations. Economic Commission for Africa; United Nations. Economic and Social Council

"United Nations. Economic Commission for Africa; United Nations. Economic and Social Council (2017-11). Draft report of the tenth session. UN. ECA Committee on Regional Cooperation and Integration(10th Session:2017, Nov. 1 - 2:Addis Ababa, Ethiopia). Addis Ababa. © UN. ECA. "