Leveraging urbanization for Africa's structural transformation: ECA's contribution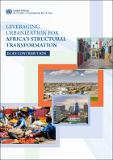 Published
2017
Author(s)/Corporate Author (s)
United Nations. Economic Commission for Africa;

Abstract
Africa's structural transformation is the overarching policy priority for the continent's inclusive and sustainable development. As clearly expressed in the African Union's Agenda 2063, there is now consensus among African leaders and stakeholders that structural transformation is a necessary condition to translate the region's recent impressive growth rates into inclusive and sustainable development. Structural transformation of the African economies through industrialization is now considered imperative. ECA works with member States on improving urban productivity and economic development through a focus on local economic development strategies linked to targets and priorities in long term national development plans. A primary objective is to enhance job creation in higher productivity sectors to respond to the growing demand for employment in African countries, and address the challenge of informality. This includes the formulation of deliberate urban strategies and plans to enhance the functionality of cities in order to support industrial and agricultural development.
Citation
"United Nations. Economic Commission for Africa (2017). Leveraging urbanization for Africa's structural transformation: ECA's contribution. Addis Ababa. © UN. ECA. "
Related items
Showing items related by title, author, creator and subject.