Institutions, decentralization and structural transformation in Eastern Africa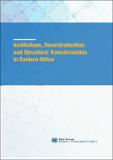 Published
2017-05
Author(s)/Corporate Author (s)
United Nations. Economic Commission for Africa. Subregional Office East Africa (SRO-EA);

Abstract
This background report on Institutions, Decentralization and Structural Transformation was prepared for discussion during the Twentieth Session of the Intergovernmental Committee of Experts. The overall objective of this background study is to provide an understanding of the role of institutions and decentralization in structural transformation through an evidence-based approach. This was done in order to examine the economic-growth trajectory and hence depth of structural transformation in Eastern Africa and identify strategies that could bridge the gap between the current impressive economic growth rates witnessed by most countries in the sub region and the deficiency in the improvement of socioeconomic development indicators, particularly, poverty alleviation. The study took cognizance of the prevalent policy reforms of the last 20 years through which governments in the region have embarked on decentralization and institutional reforms, and examined the link between institutions and decentralization on the one hand, and socioeconomic outcomes represented largely by indicators of well-being on the other hand. In the hypothesized conceptual framework, the channels for transmitting decentralization were identified to include: policy designs, leadership, public participation and service delivery.
Citation
"United Nations. Economic Commission for Africa. Subregional Office East Africa (SRO-EA) (2017-05). Institutions, decentralization and structural transformation in Eastern Africa. Addis Ababa. © UN. ECA. "
Collections
Related items
Showing items related by title, author, creator and subject.
Improving the performance of public enterprise management in Africa: lessons from country experiences

United Nations. Economic Commission for Africa. Public Administration, Human Resources, and Social Development Division; African Inistitute for Economic Development and Planning (IDEP); Special Action Programme for Administration and Management in Africa Regional Project (SAPAM)

"United Nations. Economic Commission for Africa. Public Administration, Human Resources, and Social Development Division; African Inistitute for Economic Development and Planning (IDEP); Special Action Programme for Administration and Management in Africa Regional Project (SAPAM) (1991-10). Improving the performance of public enterprise management in Africa: lessons from country experiences. UN. ECA Senior Policy Workshop ( 1991: Dakar, Senegal).. [Dakar]:. © UN. ECA,. http://hdl.handle.net/10855/565"

Governance for structural transformation: call for papers: African Economic Conference 2017

United Nations. Economic Commission for Africa; United Nations. Economic Commission for Africa; United Nations Development Programme; African Development Bank

"United Nations. Economic Commission for Africa; United Nations. Economic Commission for Africa; United Nations Development Programme; African Development Bank (2017). Governance for structural transformation: call for papers: African Economic Conference 2017. UN. ECA African Economic Conference(2017, Dec. 4-6: Addis Ababa, Ethiopia). Addis Ababa. © UN. ECA. "

Administration for development

United Nations. Economic Commission for Africa. Public Administration Section; United Nations. Economic Commission for Africa; United Nations

"United Nations. Economic Commission for Africa. Public Administration Section; United Nations. Economic Commission for Africa; United Nations (1971). Administration for development. [Addis Ababa] :. © UN. ECA,. http://hdl.handle.net/10855/14951"