African Social Development Index measuring human exclusion for structural transformation: Central Africa report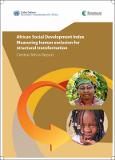 Published
2017
Author(s)/Corporate Author (s)
United Nations. Economic Commission for Africa. Social Development Policy Division. Employment and Social Protection Section;

Abstract
Africa's positive economic growth during the past two decades has shown its resilience in the wake of the international crisis of 2008. This positive performance, however, has not yet translated into meaningful social development. Certain social indicators have indeed improved, but this improvement has been selective, because the principal beneficiaries have been individuals with the highest income. Striking inequalities persist in the majority of countries and growth has not been sufficiently inclusive and equitable for all segments of the population. Human exclusion has therefore become a challenge to Africa's development. However, there are no indicators enabling accurate observation of the patterns of exclusion or to assist member States to design effective inclusion policies. The African Social Development Index (ASDI) is built on the premise that social development should be reflected in improved living conditions for individuals. Improved welfare for all does mean measuring the exclusion of certain groups from accessing basic services and ensuring appropriate policy action.
Citation
"United Nations. Economic Commission for Africa. Social Development Policy Division. Employment and Social Protection Section (2017). African Social Development Index measuring human exclusion for structural transformation: Central Africa report. Addis Ababa. © UN. ECA. "
Related items
Showing items related by title, author, creator and subject.
Indice africain de développement social indice africain de développement social (IADS): mesure de l'exclusion humaine dans une optique de transformation structurelle

Nations Unies. Commission Economique pour l'Afrique. Division des politiques de développement social. Section de l'emploi et de la protection sociale; Nations Unies. Commission Economique pour l'Afrique. Division des politiques de développement social. Section de l'emploi et de la protection sociale

"Nations Unies. Commission Economique pour l'Afrique. Division des politiques de développement social. Section de l'emploi et de la protection sociale; Nations Unies. Commission Economique pour l'Afrique. Division des politiques de développement social. Section de l'emploi et de la protection sociale (2017-11). Indice africain de développement social indice africain de développement social (IADS): mesure de l'exclusion humaine dans une optique de transformation structurelle. Addis Abeba:. © NU. CEA,. "

Background paper on the sub-theme: "ensuring healthy lives and promoting well-being for all"

United Nations. Economic Commission for Africa; United Nations. Economic and Social Council

"United Nations. Economic Commission for Africa; United Nations. Economic and Social Council (2017-05). Background paper on the sub-theme: "ensuring healthy lives and promoting well-being for all". UN. ECA Africa Regional Forum on Sustainable Development(3rd session:2017, May 17 - 19:Addis Ababa, Ethiopia). Addis Ababa. © UN. ECA. "