Africa's youth and prospects for inclusive development: regional situation analysis report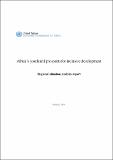 Published
2017-02
Author(s)/Corporate Author (s)
United Nations. Economic Commission for Africa. Social Development Policy Division. Population and Youth Section;

Abstract
Africa has the world's youngest population and it is growing rapidly. At present, young people aged between 15 and 24 years constitute 19.4 percent of the total population, while children under 15 years are nearly 41 percent of the total population. By sheer numbers alone, the choices, opportunities and constraints of young people will continue to play a major role in shaping Africa's development. The present report aims to provide a resource for formulating and implementing policies that promote engagement, empowerment and investment in young people in Africa. It is organized around the five priority areas in the Secretary-General's Five-Year Action Agenda, and the United Nations System-wide Action Plan on Youth (YouthSWAP): education; health; political inclusion; protection of rights and civic engagement; and employment and entrepreneurship. Drawing on secondary sources that were supplemented by primary data collected in three countries Morocco, Nigeria and South Africa, the report seeks to contextualize major issues and challenges faced by young Africans. It documents selected good practices across the continent and goes on to propose broad recommendations.
Citation
"United Nations. Economic Commission for Africa. Social Development Policy Division. Population and Youth Section (2017-02). Africa's youth and prospects for inclusive development: regional situation analysis report. Addis Ababa. © UN. ECA. "
Related items
Showing items related by title, author, creator and subject.
Indice africain de développement social indice africain de développement social (IADS): mesure de l'exclusion humaine dans une optique de transformation structurelle

Nations Unies. Commission Economique pour l'Afrique. Division des politiques de développement social. Section de l'emploi et de la protection sociale; Nations Unies. Commission Economique pour l'Afrique. Division des politiques de développement social. Section de l'emploi et de la protection sociale

"Nations Unies. Commission Economique pour l'Afrique. Division des politiques de développement social. Section de l'emploi et de la protection sociale; Nations Unies. Commission Economique pour l'Afrique. Division des politiques de développement social. Section de l'emploi et de la protection sociale (2017-11). Indice africain de développement social indice africain de développement social (IADS): mesure de l'exclusion humaine dans une optique de transformation structurelle. Addis Abeba:. © NU. CEA,. "

Background paper on the sub-theme: "ensuring healthy lives and promoting well-being for all"

United Nations. Economic Commission for Africa; United Nations. Economic and Social Council

"United Nations. Economic Commission for Africa; United Nations. Economic and Social Council (2017-05). Background paper on the sub-theme: "ensuring healthy lives and promoting well-being for all". UN. ECA Africa Regional Forum on Sustainable Development(3rd session:2017, May 17 - 19:Addis Ababa, Ethiopia). Addis Ababa. © UN. ECA. "