An ABC of industrialisation in Uganda: achievements, bottlenecks and challenges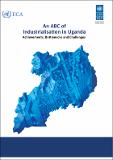 Published
2017
Author(s)/Corporate Author (s)
United Nations. Economic Commission for Africa;

Abstract
The development of the Ugandan economy is at a crossroads. While the country's growth record over the last 30 years has been impressive, there is a pervasive feeling that the current paradigm is running out of steam. In 2016, Uganda registered the lowest rate of economic growth in the last 30 years. Income inequality has risen, and job create on has been lackluster. As a consequence, growth has not been sufficiently inclusive. This study argues that one of the main reasons for this situate on is that the economy has been driven by the services sector, but at the expense of the industrial and manufacturing sectors. One of the consequences of the weak growth of the manufacturing sector is that it has made the economy more vulnerable and less resilient. The study also recommends vigilance with regard to entering into new trade agreements with other regional blocks that could compromise efforts to industrialize the region.
Citation
"United Nations. Economic Commission for Africa (2017). An ABC of industrialisation in Uganda: achievements, bottlenecks and challenges. Addis Ababa. © UN. ECA. "
Collections
Related items
Showing items related by title, author, creator and subject.
Document de synthèse thème: l'industrialisation au service du développement inclusif et de la transformation en Afrique

Nations Unies. Commission Economique pour l'Afrique

"Nations Unies. Commission Economique pour l'Afrique (2014-03). Document de synthèse thème: l'industrialisation au service du développement inclusif et de la transformation en Afrique. NU. CEA réunion annuelle conjointe de la Conférence des ministres africains des finances, de la planification et du développement économique de la Commission économique pour l'Afrique et de la Conférence des ministres de l'économie et des finances de l'Union africaine (7ème: 2014, mar. 29-30 : Abuja, Nigéria); NU. CEA (47ème Session: 2014, mar. 29-30: Abuja, Nigéria); NU. CEA Conférence des ministres africains de l'économie et des finances(9ème Session: 2014, mar. 29-30 : Abuja, Nigéria). Addis Abeba :. © NU. CEA,. http://hdl.handle.net/10855/22206"

Infrastructure development and industrialization in Eastern Africa

United Nations. Economic Commission for Africa. Subregional Office East Africa (SRO-EA)

"United Nations. Economic Commission for Africa. Subregional Office East Africa (SRO-EA) (2017-11). Infrastructure development and industrialization in Eastern Africa. UN. ECA Intergovernmental Committee of Experts (ICE) Meeting(21st: 2017, Nov. 07-09 :Moroni, Comoros). Addis Ababa. © UN. ECA. "