Innovative financing for the structural transformation of West African economies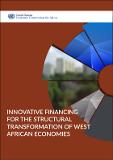 Published
2017-10
Author(s)/Corporate Author (s)
United Nations. Economic Commission for Africa. Subregional Office West Africa (SRO-WA);

Abstract
Macroeconomic performance in the West African sub region has been good, with an average growth rate higher than 5 per cent over the past decade. Forecasts show that growth should be strong over the period 2016-2020, with an average growth rate ranging between 5 and 7 per cent. Innovative financing, which is one of the most promising solutions to meeting Africa's development needs, offers additional funds through the exploration of an existing but unexplored potential. This potential also includes the mobilization of non-traditional resources for development. The report seeks mainly to identify the challenges and opportunities connected with the financing of structural transformation in West Africa in order to highlight the role that innovative financing mechanisms may play in this approach. The remainder of the document is organized as section 2 outlines major sources of financing in West Africa and related challenges; Section 3 discusses issues relating to the mobilization of domestic resources. Sections 4, 5 and 6 report on case studies of countries in the area. Section 7 sets out policies for the optimization of innovative financial inputs. The main conclusions are put forward in Section 8.
Citation
"United Nations. Economic Commission for Africa. Subregional Office West Africa (SRO-WA) (2017-10). Innovative financing for the structural transformation of West African economies. Addis Ababa. © UN. ECA. "
Collections
Related items
Showing items related by title, author, creator and subject.