16 infrastructure projects for African integration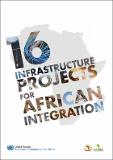 Published
2017
Author(s)/Corporate Author (s)
United Nations. Economic Commission for Africa;

Abstract
Infrastructure development is a key driver for progress across the African continent and a critical enabler for sustainable and socially inclusive growth. The Program for Infrastructure Development (PIDA) provides the strategic framework for priority projects to transform Africa through the construction of modern infrastructure into an interconnected and integrated continent that is competitive domestically and in the global economy. The main objective of the Dakar Financing Summit (DFS) which took place in June 2014, was to mobilize key stakeholders to accelerate the implementation of PIDA. These stakeholders include lead government agencies, DFIs, private equity investors, infrastructure funds, commercial banks, pension funds, and insurance companies. This book is organized in two parts. In part one, profile all 16 DFS projects, underscoring elements such as strategic importance, technical specifications, transitional coordination, political support, international support, risks, risk mitigation, economic sustainability, expected benefits and the status of project preparation. In part two, present "Where the money is", an abridged version of the landmark study by NEPAD Agency and ECA on domestic resource mobilization in Africa.
Citation
"United Nations. Economic Commission for Africa (2017). 16 infrastructure projects for African integration. Addis Ababa. © UN. ECA. "
Related items
Showing items related by title, author, creator and subject.