Background study on institutions, decentralization and structural transformation in Eastern Africa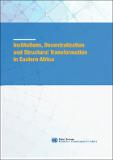 Published
2016-06
Author(s)/Corporate Author (s)
United Nations. Economic Commission for Africa;

Abstract
This background report on Institutions, Decentralization and Structural Transformation was prepared for discussion during the Twentieth Session of the Intergovernmental Committee of Experts (ICE). The overall objective was to provide an understanding of the role of "institutions" and "decentralization" in structural transformation through an evidence-based approach. This involved examining structural transformation in Eastern Africa and identifying strategies that could bridge the gap between the current impressive economic growth rates witnessed by most countries in the sub region and the low achievement in socioeconomic indicators, particularly in poverty alleviation. The study took cognizance of the prevalent policy reforms of the last 20 years through which governments in the region have embarked on decentralization and institutional reforms, and examined the link between institutions and decentralization on the one hand, and socioeconomic outcomes represented largely by indicators of well-being on the other hand.
Citation
"United Nations. Economic Commission for Africa (2016-06). Background study on institutions, decentralization and structural transformation in Eastern Africa. Addis Ababa. © UN. ECA. "
Collections
Related items
Showing items related by title, author, creator and subject.