From millennium development goals to sustainable development goals: lessons learned in West Africa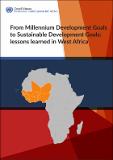 Published
2017-08
Author(s)/Corporate Author (s)
United Nations. Economic Commission for Africa. Subregional Office West Africa (SRO-WA);

Abstract
This report entitled "From the Millennium Development Goals to the Sustainable Development Goals", which presents the progress made in the sub region towards the MDGs and the transition to the SDGs, was prepared for the 19th meeting of the Intergovernmental Committee of Experts for West Africa. Its broad purpose is to provide member States with information on the overall progress the sub region has made since 2000 with regard to the MDGs, learn lessons from what has been done and discuss the strategic and operational guidelines needed to complete the efforts initiated in the framework of the MDGs over the next 15 years. It will also act as an advocacy tool for ownership and effective mobilization by the member States for more successful implementation of the SDGs by 2030. Specifically, the report Presents an updated picture of overall progress made by the countries of the sub region towards the MDGs over the period 2000-2015 and also identifies what has not been completed and the areas of improvement that need to guide the implementation of the SDGs; Informs and raises awareness among the member States and other stakeholders on the scope of the SDGs and the issues they raise in order to ensure enhanced ownership; Discusses the strategic and operational guidelines to be undertaken by the member States and the other development stakeholders over the next 15 years.
Citation
"United Nations. Economic Commission for Africa. Subregional Office West Africa (SRO-WA) (2017-08). From millennium development goals to sustainable development goals: lessons learned in West Africa. Addis Ababa. © UN. ECA. "
Collections
Related items
Showing items related by title, author, creator and subject.