Senior management retreat outcome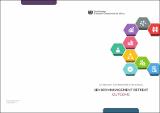 Published
2016
Author(s)/Corporate Author (s)
United Nations. Economic Commission for Africa;

Abstract
The present report constitutes the outcomes of the 2016 Annual Senior Management Retreat held from 27 to 29 November 2016. The main objective of the retreat as indicated in the Economic Commission for Africa (ECA) Senior Management Team (SMT) Retreat orientation note, which was circulated to SMT members prior to the event was to take stock of ECA key achievements in support of Africa's structural transformation agenda in the context of Agenda 2063 and the 2030 Agenda for Sustainable Development. The main outcome of the retreat was to arrive at a set of proposals that focused on strategic development priorities for ECA moving forward. The strategic priorities were intended to constitute recommendations to the incoming Executive Secretary of the Commission.
Citation
"United Nations. Economic Commission for Africa (2016). Senior management retreat outcome. Addis Ababa. © UN. ECA. "
Related items
Showing items related by title, author, creator and subject.