Human and institutional capacities: harnessing mineral resources for Africa's transformation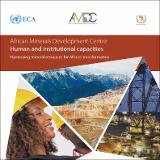 Published
2017
Author(s)/Corporate Author (s)
United Nations. Economic Commission for Africa. Special Initiatives Division. African Minerals Development Center;
African Union Commission;

Abstract
The goal of AMDC's human and institutional capacities work is to strengthen the African minerals skills base to make it stronger, more competitive, and better aligned to AMV outcomes. It also facilitates knowledge sharing and peer learning between African countries, with the aim of strengthening regional cooperation and integration. AMDC's human and institutional capacities work stream was established to address a number of key challenges highlighted in the Africa Mining Vision and identified by AU member states as requiring strategic support from AMDC. The AMV encourages African minerals sector stakeholders to think 'out of the mining box'. For this work stream, this means a value chain approach, designing innovative systems to build the human and institutional capabilities needed to drive industrialization. It involves creating platforms for sectoral cluster development, and bringing together research, innovation, and skills to support and sustain greater local participation.
Citation
"United Nations. Economic Commission for Africa. Special Initiatives Division. African Minerals Development Center; African Union Commission (2017). Human and institutional capacities: harnessing mineral resources for Africa's transformation. Addis Ababa. © UN. ECA. "
Collections
Related items
Showing items related by title, author, creator and subject.