Building capacity for environmental sustainability in artisanal and small scale mining in African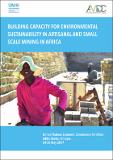 Published
2017-07
Author(s)/Corporate Author (s)
United Nations Environment Programme;
United Nations. Economic Commission for Africa. Special Initiatives Division. African Minerals Development Center;

Abstract
The Africa Mining Vision adopted by the African Union Summit in 2009 recognizes that harnessing Africa's natural resource endowment on a sustainable basis is critical for Africa's development. One of the interventions proposed under the framework for action is to promote environmentally sustainable, safe and socially responsible mining and material stewardship that includes mining communities as beneficiaries. Artisanal and small-scale mining (ASM) is widespread in Africa and exploits a very large number of minerals. This sector is however beset with a number of challenges, which prevent it from reaching its full developmental potential. This regional workshop is identified as one of the activities to support better environmental governance of the mining sector at the regional level, and is jointly organized with the African Minerals Development Center (AMDC). The meeting focused on the implementation of the Africa Mining Vision through respective Country Mining Visions in the context of artisanal and small-scale mining.
Citation
"United Nations Environment Programme; United Nations. Economic Commission for Africa. Special Initiatives Division. African Minerals Development Center (2017-07). Building capacity for environmental sustainability in artisanal and small scale mining in African. Addis Ababa. © UN. ECA. "
Collections
Related items
Showing items related by title, author, creator and subject.
Administration for development

United Nations. Economic Commission for Africa. Public Administration Section; United Nations. Economic Commission for Africa; United Nations

"United Nations. Economic Commission for Africa. Public Administration Section; United Nations. Economic Commission for Africa; United Nations (1971). Administration for development. [Addis Ababa] :. © UN. ECA,. http://hdl.handle.net/10855/14951"

La privatisation des entreprises publiques: les leçons des expériences africaines

Nations Unies. Commission Economique pour l'Afrique. Division de l'administration publique, des resources humaines et du développement social

"Mostafa, Rhomari; Nations Unies. Commission Economique pour l'Afrique. Division de l'administration publique, des resources humaines et du développement social (1993). La privatisation des entreprises publiques: les leçons des expériences africaines. NU. CEA Conférence Régionale sur la Gestion du Développement en Afrique: Trente années d'expérience, les nouveaux défis et les priorités futures (1993, mars 8 - 12 : Addis Abeba, Ethiopie).. Addis Abeba :. © NU. CEA,. http://hdl.handle.net/10855/3859"