Draft: Land Policy Initiative Steering Committee Minutes of the meeting held on 5 April 2017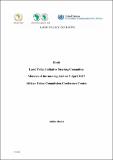 Published
2017-04
Author(s)/Corporate Author (s)
United Nations. Economic Commission for Africa;
African Development Bank;
African Union Commission;

Abstract
The Land Policy Initiative (LPI) Steering Committee present the progress made in implementing the decisions of the Steering Committee included the secretariat prepared documentation on the transition from LPI to ALPC, addressing- the activities to be undertaken with proposed timelines supporting the ALPC transition; The Secretariat had consulted and engaged with partners in finalizing the ALPC strategic plan to ensure coordination and mobilized resources; Little progress had been made on the (three) decisions made by the Steering Committee at different meetings in relation to the European Union and FAO to engage with LPI in the development of the next phase of European Union country projects; The secretariat was consulting partners to find ways and modalities to establish a functional donors' platform for effectiveness and better coordination; To garner support and seek complementary on the different studies being conducted in the area of conflict, the secretariat was working closely with the Capacity Development Division of ECA; The secretariat had expedited implementation of the monitoring an evaluation component of the LPI work plan.
Citation
"United Nations. Economic Commission for Africa; African Development Bank; African Union Commission (2017-04). Draft: Land Policy Initiative Steering Committee Minutes of the meeting held on 5 April 2017. Addis Ababa. © UN. ECA. "
Related items
Showing items related by title, author, creator and subject.