Impact of illicit financial flows on domestic resource mobilization: optimizing revenues from the mineral sector in Africa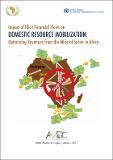 Published
2017-01
Author(s)/Corporate Author (s)
United Nations. Economic Commission for Africa. Special Initiatives Division. African Minerals Development Center;
African Union Commission;

Abstract
This report is a follow-up to the landmark Report of the High Level Panel on Illicit Financial Flows from Africa, commissioned by the African Union and the Economic Commission for Africa. Based on four country case studies, this report demonstrates the level of vulnerability of the mining sector of Africa to sophisticated cross-border corporate practices which erode the tax base of its countries. The report adopts a policy-oriented approach, systematically examining risks points of illicit financial leakages along the mineral value chain. The selected countries –Democratic Republic of the Congo, South Africa, Tanzania and Zambia - reflect an inclusive range of policy, institutional and economic realities. They are all mineral-dependent economies, albeit at different stages of economic development and structural transformation. Their experiences reflect the regional diversity of the continent. The report demonstrates that inhibitive practices related to illicit financial flows (IFF) and domestic resource mobilization (DRM) in the mineral sector are increasingly widespread and complex. They are also global in nature. However, design and compliance gaps in countries' institutional frameworks transform tax evasion and avoidance opportunities into harmful cross border illicit financial flows.
Citation
"United Nations. Economic Commission for Africa. Special Initiatives Division. African Minerals Development Center; African Union Commission (2017-01). Impact of illicit financial flows on domestic resource mobilization: optimizing revenues from the mineral sector in Africa. Addis Ababa. © UN. ECA. "
Collections
Related items
Showing items related by title, author, creator and subject.