Large-scale land based investments in Africa : synthesis report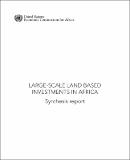 Published
2017-05
Author(s)/Corporate Author (s)
United Nations. Economic Commission for Africa;

Abstract
The work presented here aims to support the Land Policy Initiative (LPI) Secretariat in spearheading the implementation of the Nairobi Action Plan, particularly the achievement of the first action related to the Assessments of large-scale land based investment (LSLBI) in Africa, in order to build the necessary evidence and analysis required for the implementation of the remainder of the actions under the Plan. The specific objective of the work is to prepare an assessment report on LSLBI in Africa with a view to building knowledge and drawing lessons based on best practices for future LSLBI deals that lead to win-win outcomes. In order to do so five regional assessments have been engaged in and are synthesized in this continental synthesis report. The LSLBI included in this study are cases of announced, intended and realized transactions/ investments that entail a transfer of rights to use, control or own land through sale, lease or concession; Have been initiated since 2000; Cover an area of 200 hectares or more ; Imply the potential conversion of land from smallholder production, local community use or important ecosystem service provision to commercial use.
Citation
"United Nations. Economic Commission for Africa (2017-05). Large-scale land based investments in Africa : synthesis report. Addis Ababa. © UN. ECA. "
Related items
Showing items related by title, author, creator and subject.