Artisanal and small-scale mining workstream : harnessing mineral resource for Africa's transformation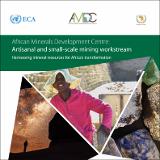 Published
2017-05
Author(s)/Corporate Author (s)
United Nations. Economic Commission for Africa. Special Initiatives Division. African Minerals Development Center;
African Union Commission;

Abstract
Africa has more than eight million artisanal miners. This is a conservative estimate, since in many countries Artisanal and small-scale mining (ASM) operates informally. ASM faces a number of challenges which prevent it from reaching its full developmental potential. These include: inadequate policy and regulatory frameworks; the limited technical capacity of miners; lack of access to finance and appropriate technologies; and regrettably, widespread employment of under-age child workers and incidences of trade in conflict minerals. These challenges generally lock small-scale miners into a cycle of subsistence operations with significant negative consequences for the environment and for human life. The goal of AMDC's work stream is to harness ASM's potential by building on the tenets of the Africa Mining Vision to help integrate ASM into sustainable economic and social development.
Citation
"United Nations. Economic Commission for Africa. Special Initiatives Division. African Minerals Development Center; African Union Commission (2017-05). Artisanal and small-scale mining workstream : harnessing mineral resource for Africa's transformation. Addis Ababa. © UN. ECA. "
Collections
Related items
Showing items related by title, author, creator and subject.