Harnessing mineral resources for Africa's transformation: the AMDC approach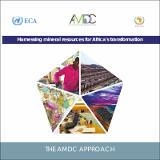 Published
2017
Author(s)/Corporate Author (s)
United Nations. Economic Commission for Africa. Special Initiatives Division. African Minerals Development Center;
African Union Commission;

Abstract
Africa had faced many challenges on its journey to harnessing the power of its minerals, as a result of national and also importantly global and geopolitical factors. Nevertheless, it is precisely this context that can stimulate African nations to future proof against weak, revenue only mining regimes and unleash the transformative potential of its minerals. Interestingly, this context provides a renewed impetus to accelerate the implementation of the African Mining Vision (AMV). The AMV offers a unique paradigm shift, from mineral rents maximization to one where countries can harness broader and more sustainable opportunities, notably through innovation, broad-based linkages and sustainable diversification. this work supports African mineral economies to: develop consistent development oriented mineral policies and regulatory frameworks; make effective use of geological and geospatial information for developmental outcomes; diversify their economies by unlocking linkages; establish a knowledge driven and well-governed African mineral sector that is socially and environmentally accountable, mainstreams gender and contributes to broad-based growth and development; and build a viable and sustainable artisanal and small-scale mining sector to provide decent quality of life for rural communities.
Citation
"United Nations. Economic Commission for Africa. Special Initiatives Division. African Minerals Development Center; African Union Commission (2017). Harnessing mineral resources for Africa's transformation: the AMDC approach. Addis Ababa. © UN. ECA. "
Collections
Related items
Showing items related by title, author, creator and subject.