Annual report 2016: supporting Africa's response to climate change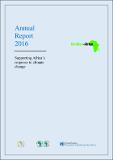 Published
2016
Author(s)/Corporate Author (s)
United Nations. Economic Commission for Africa. Special Initiatives Division. African Climate Policy Center;
African Development Bank;
African Union Commission;

Abstract
This annual report presents the activities and achievements of the Climate for Development in Africa Program (ClimDev-Africa) during the calendar year 2016. The program was delivered, within the constraints of available resources, and focused on providing guidance and technical support to member countries in the context of the Paris Agreement on climate change, the 2030 Agenda for Sustainable Development, Agenda 2063, the Sendai Framework for Disaster Risk Reduction 2015–2030 and the Small Island Developing States Accelerated Modalities of Action (Samoa) Pathway. The present report also highlights emerging issues, new partnerships and operational strategies, and science-policy-practice dialogues leading up to the twenty-second session of the Conference of the Parties to the United Nations Framework Convention on Climate Change. During the year, the program's partners completed a business plan to guide its activities for the next five-year phase of the program (2017–2021).
Citation
"United Nations. Economic Commission for Africa. Special Initiatives Division. African Climate Policy Center; African Development Bank; African Union Commission (2016). Annual report 2016: supporting Africa's response to climate change. Addis Ababa. © UN. ECA. "
Related items
Showing items related by title, author, creator and subject.