Offsetting the negative impact of climate change on agriculture in the Economic Community of West African States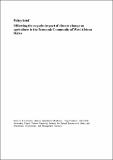 Published
2017
Author(s)/Corporate Author (s)
United Nations. Economic Commission for Africa;

Abstract
Climate change is acknowledged to be among the most serious threats to the capacity of food supply systems to meet growing food needs. Indeed, it is predicted that agriculture in the countries of the Economic Community of West African States will be seriously affected by climate change and the magnitude, and impact of that change will vary based on location. Agricultural crops in those countries are irrigated primarily by rain and are thus heavily dependent on climatic conditions. The use of technology and improved seed varieties is not widespread in the ECOWAS region, and the production of paddy rice, maize, sorghum, millet, oil seeds, cocoa, coffee and sesame is likely to decline in scenarios of both moderate and harsh climate change. The adoption of high-yield crop varieties is therefore necessary in all ECOWAS countries in order to offset the impact of climate change. This policy brief is aimed at recommending policies that will help to offset the negative effects of climate change on crop production in ECOWAS countries on the basis of an in-depth investigation of the impact of climate change on agricultural production in ECOWAS countries across agro-climatic zones.
Citation
"United Nations. Economic Commission for Africa (2017). Offsetting the negative impact of climate change on agriculture in the Economic Community of West African States. Addis Ababa. © UN. ECA. "
Serial Title
Policy brief
Related items
Showing items related by title, author, creator and subject.