Programme strategy: knowledge generation and delivery for climate resilient development policies in Africa 2017-2021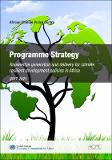 Published
2017
Author(s)/Corporate Author (s)
United Nations. Economic Commission for Africa. Special Initiatives Division. African Climate Policy Center;

Abstract
The African Climate Policy Centre (ACPC) of the Economic Commission for Africa (ECA) was established in 2008 after a process of reflection and strategizing in different policy contexts on the need to mainstream climate change into development policy planning in Africa. The objective of the program was "to guide the effective integration of climate information and services into development planning and to ensure the mainstreaming of climate considerations into policies and programs aimed at achieving the Millennium Development Goals." The overall goal of ACPC and the ClimDev-Africa program is to contribute to poverty reduction through successful mitigation and adaptation to climate change in Africa and to improve the capacity of African countries to participate effectively in multilateral climate negotiations.
Citation
"United Nations. Economic Commission for Africa. Special Initiatives Division. African Climate Policy Center (2017). Programme strategy: knowledge generation and delivery for climate resilient development policies in Africa 2017-2021. Addis Ababa. © UN. ECA. "
Related items
Showing items related by title, author, creator and subject.
Annual report 2016: supporting Africa's response to climate change

United Nations. Economic Commission for Africa. Special Initiatives Division. African Climate Policy Center; African Development Bank; African Union Commission

"United Nations. Economic Commission for Africa. Special Initiatives Division. African Climate Policy Center; African Development Bank; African Union Commission (2016). Annual report 2016: supporting Africa's response to climate change. Addis Ababa. © UN. ECA. "

Rapport sur les objectifs de développement durable pour la sous-région de l'Afrique de l'Est

Nations Unies. Commission économique pour l'Afrique. Bureau Sous-Régional pour l'Afrique de l'Est; Banque africaine de développement; Commission de l'Union Africaine; Nations Unies. Commission économique pour l'Afrique. Bureau Sous-Régional pour l'Afrique de l'Est; Banque africaine de développement; Commission de l'Union Africaine

"Nations Unies. Commission économique pour l'Afrique. Bureau Sous-Régional pour l'Afrique de l'Est; Banque africaine de développement; Commission de l'Union Africaine; Nations Unies. Commission économique pour l'Afrique. Bureau Sous-Régional pour l'Afrique de l'Est; Banque africaine de développement; Commission de l'Union Africaine (2015-10). Rapport sur les objectifs de développement durable pour la sous-région de l'Afrique de l'Est. Addis Abeba:. © NU. CEA,. "